Your Data Online ASAP
About Data ASaP!
We made Data Asap simple to use and powerful. It will quickly publish your database to the Web. You can generate ASP or PHP pages, depending on the server that will be hosting your Web pages.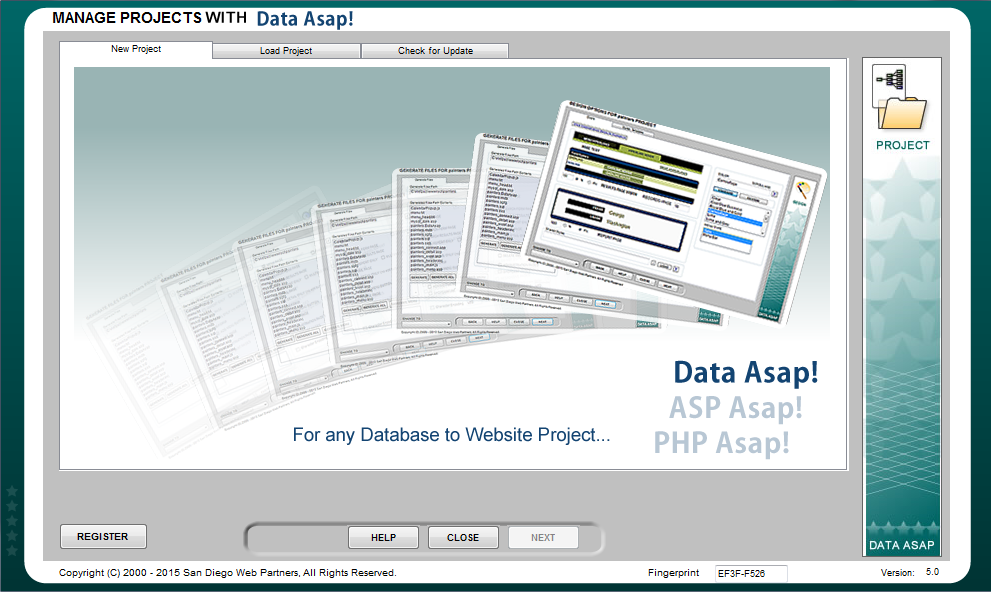 Data Asap focuses on the fundamentals of data access, generating Web pages for you that will allow for viewing, modifying, and adding data, all from a Web browser and it gives you a major head start by allowing you to require a username and password from your website visitors before they can perform certain actions, like adding, editing or deleting records.
Data Asap works with Microsoft Access databases, MySQL databases and SQL Server databases that you create.
In order to fully utilize the features that Data Asap offers, we recommend the following typical minimum Web server environment(s) for your generated pages.
If your pages are going to be on a Microsoft server, we recommend you have ASaP ASP which generates ASP pages.
* Microsoft Windows (NT, 2K or XP) Server with IIS
* Microsoft Access or SQL Server database
. . OR . .
If your pages are going to be on a Unix or Linux server, we recommend you have ASaP PHP which generates PHP pages.
* Linux server
* Apache
* MySQL database
Tip
Note: You do not need to have a database and Web server running on your local machine to use Data Asap. Instead, you can use your Microsoft Access database file (or use a DSN to connect to your database) with Data Asap locally and then upload the generated pages to your Web server.
You can set up a simple shopping cart by using a hyperlink to link the items you are selling to a popular credit card processing service that is now International.