About Data Asap! Your Data Online
We made Data Asap simple to use and powerful. It will quickly publish your database to the Web. Data Asap was originally created by
Roark Dority
and
Michael Hanes
back in 2000 to support ASP and SQL Server, however with the growing open source community of MySQL and PHP we offered the PHP version in 2002. Now as the web has changed to support mobile platforms we have updated the product to generate pages that utilize responsive design.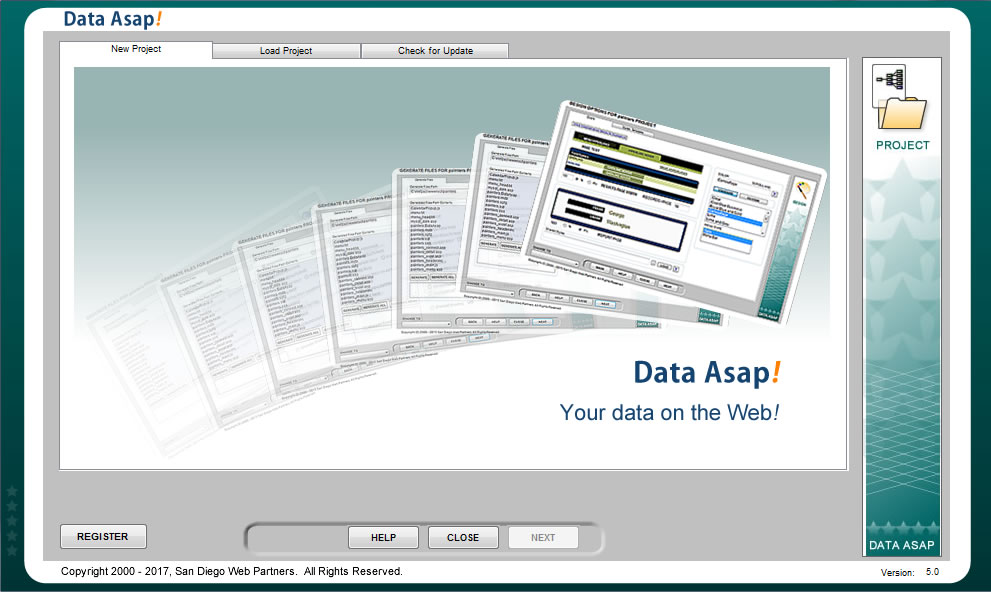 Data Asap focuses on the fundamentals of data access, generating Web pages for you that will allow for viewing, modifying, and adding data, all from a Web browser and it gives you a major head start by allowing you to require a username and password from your website visitors before they can perform certain actions, like adding, editing or deleting records. Data Asap works with MySQL databases at this time but we are working on an ASP version that will support Microsoft Access and SQL Server. In the purchased version there are options to set up a simple shopping cart using a hyperlink to link the items you are selling to the PayPal service.
Dog Lover's Example
CLICK HERE
Testimonials
What Our Customers Are Saying:
Your ASAP program has saved the day! We needed an easy to use database GUI for our CSR's. It works great. And more importantly your customer support was exceptional! Within 5 minutes of my first e-mail Mike was responding and providing the help I needed to get it working. I hope you don't mind but(ASAP is my little secret,) I look REAL GOOD to my boss. Thanks Again!
Mike Gilhooly
I think you guys at the San Diego Web Partners are awesome. I love your program and ASap is probably one of the best utilities that I've ever used as a web designer. I want you to know how much I truly appreciate you. Your product is my favorite web development product. I love you guys better than Macromedia.
Joey Champion
What a great application! After weeks of searching for an asp database tool and hours of downloading the demos, I find ASaP! All my problems are solved and I've built my first database application within minutes. As a designer of visual communications, programming is not my priority. ASaP! lets me achieve the results quickly and effectively without the need to know about coding…….BRILLIANT!!
Tony Swaby
I have told many of my peers that dabble in web design about how great this product is and how helpful you are... I hope that this word of mouth gets you some more sales... you really deserve it for the great work.
Ben Uhlig
This is the best program I have seen for ASP generation. I tried 12 other downloadable programs and ASaP! far exceeded the rest. I love it."
Joe Hamilton
When I tried the other software out there like ASaP! the bottom line is that yours was very easy and worked! Your product by far was the easiest and most user-friendly. --
Jim O'Toole
Rarely do I feel the need to recommend a product but I'm sure you'll find "ASaP" as fantastic as I have and I promise you it'll shave your admin development time down by 90% It generates both ASP and PHP (if you pay the very reasonable price of $69) and the code output is very clean and simple. Chris, it's exactly your cup of tea, the code is how you like it Easy to use, with separate style sheets meaning you can very quickly build your entire admin and associated search forms. Did I mention it enables the defining of relationships too! I've just generated an entire admin centre and front-end search forms for a Job placement site in a couple of hours, I anticipate 1 hour to brand it up and throw in some front-end menus and it'll be done. Now that is what I call fast! You may notice I've copied in the software developers of the tool who are the nicest and most helpful bunch you could ever meet. So you can be sure you'll be well supported too. Please do yourselves a favour and grab this tool, you'll not regret doing so.
Jason Herman
What a terrific program!! It is relatively simple to figure out, and the end result is fantastic. Thanks,
Erica Waycie
I gotta tell you guys that this is a totally awesome application and believe me I have downloaded a good many others to try before deciding. Your application is extremly well thought out in terms of function and approach to the user. I wish you every success. :-)
With kind regards Steven Clarke
Thank you for making such a great program. I am a novice to ASP, but I read code better than I can write it. Can't get over how easy it is to modify and use [the generated code]. Thanks Again for a great program and your help,
Frank Faur
"I've spent hundreds of dollars on some fairly expensive software over the last few months and I'm still *just amazed* at everything this little jewel is capable of. Not only is the product excellent, the support I've received is second to none. Dollar for dollar, DataASaP is the best product I've licensed in a long, long time."
David Coker
WOW! Great software guys! I am sure ASaP! will save me much time in the future developing complex asp database driven pages. The code the product generates is so clean it looks as though I did it from scratch. Your product will allow me even faster "concept to implementation" time.
Zachary Horowitz, Cyberton Inc.
"Fast, easy and reliable way to put a database online" If you are looking to quickly and easily put an Access (or SQL) database on the web without programming and have Microsoft IIS server to run it off, I highly recommend this. Worth much more than the price!
Steve Anderson
"ASaP! can make a quality site in minutes" There's alot of these programs that all make similar claims. I've downloaded quite a few, but hands down IT IS THE BEST. By the way, Customer Support ROCKS!
Jeff Meyer
Wow, your program works great. Now that I've gotten used to it, I really can put up a database in 5 minutes. Wow, this program is just what I was looking for: an easy, quick way to give co-workers the ability to view and change records from our Access database. I searched a long time to find a program like this. It's one of the best productivity tools I've seen, with a lot of our staff now able to do research, phone calls, etc. and update our database from anywhere.
Wayne Parker
"Being a MySQL novice, using Asap has enabled me to provide a very professional interface for my clients database at very low cost. It has enabled him to have almost complete control for updating his catalog while maintaing a consistent look and feel. I have now used most of the options available and have been amazed at how well though out the product is in terms of useabilty and applicability. One of the key advantages for me was the shopping cart facility. Recent updates have been added that allow the Cart to interface directly with PAYPAL with dollar, sterling and euro options going a long way to making it a worldwide solution. The support and advice I have received has been second to none. Many thanks for making a difficult to understand task very easy!"
Ralph Pegden